What You Need to Know About Growing CBD Seeds in Iowa

Hemp farming is hot in Iowa and across the nation. If you are considering growing an industrial hemp/CBD seed crop in Iowa, there are various things you'll need to be aware of:
Hemp can be turned into a wide variety of products, but selling it for CBD oil and other CBD products will provide the best return on your investment.

To ensure that your hemp plants grow with as much CBD as possible,

choose seeds and clones with proven genetics.

A higher CBD content will fetch a higher price, but along with CBD the industrial hemp plant also contains THC, which is the ingredient in marijuana that creates the "high." Therefore, THC must be extremely low, too low to create a high.

According to current USDA regulations, the permissible amount of THC in industrial hemp is only 0.3% per dry weight. What does this mean for you, as a hemp grower?

Your crop will be tested to ensure those levels, per Iowa guidelines. If it's found to have an "illegal" amount of THC, you might not be able to sell it, and it might even have to be destroyed.

To avoid this type of disaster, we always recommend that a prospective hemp farmer get

as much education as possible

on how to successfully grow a successful CBD crop. Start educating yourself before applying for a license and definitely before starting to plant!

Do yourself a huge favor and try to find a buyer for your crop before planting and harvesting. There have been instances where farmers harvested their crop, only to find no CBD producers to purchase it. Producers are growing in numbers each year, but best to be prudent.
CBD Seed Co. is honored to be the trusted CBD seed company serving Iowa.
Where to Get Licensed to Grow CBD In Iowa
Farmers interested in growing hemp commercially will need to apply for licensing from the Iowa Hemp Program. The Iowa Department of Agriculture and Land Stewardship is responsible for regulating the program. Applicants are required to use official fingerprint cards provided by the IDALS in order to pass their background check. Since regulations are often in flux, it's best to check this website regularly for updates.
Leading CBD Seed Genetics for Iowa
CBD Seed Co. has spent over five years in research and development in order to breed high-producing CBD seeds. Our genetics feature options that are ideal for the humid, continental climate with hot summers. We value compliance and always have our seeds independent, third-party lab tested for cannabinoid content, no pesticide exposure, and quality. Learn more about our current available hemp varieties: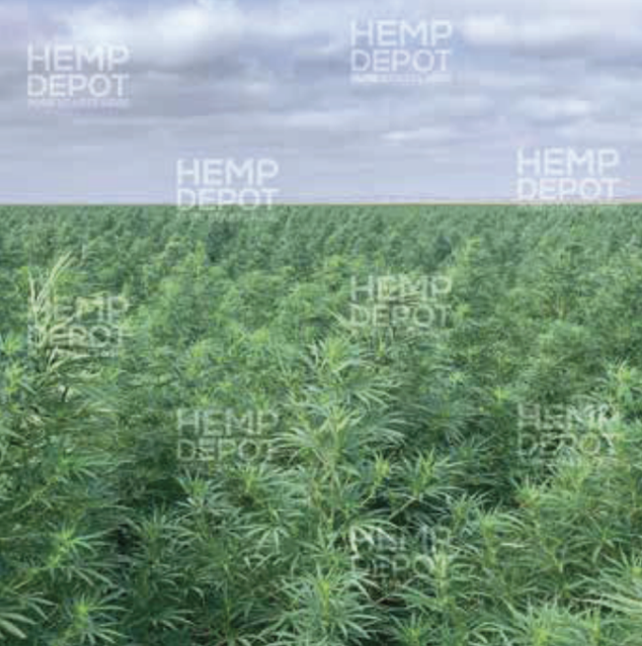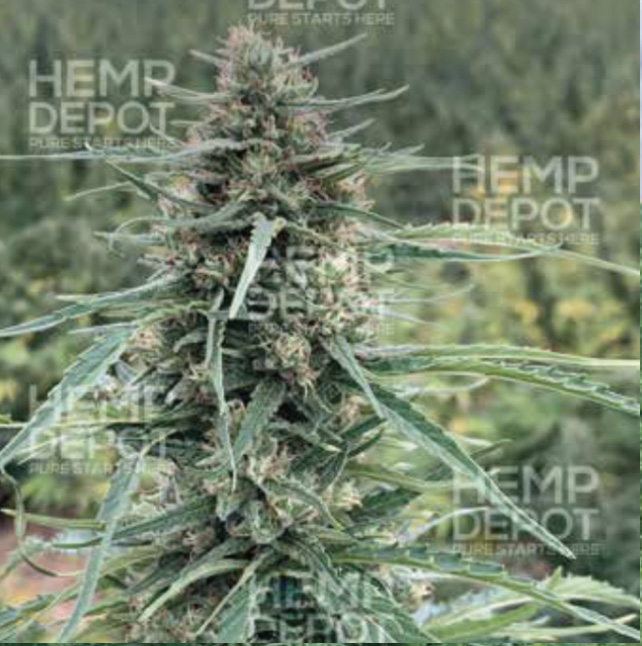 BaOX Feminized Seed
Field tested from California to Michigan and down to Florida, Our BaOX feminized seed Is a no bralner for the large scale farmer looking to use mechanization from start to finish.
Cherry HD Feminized Seed
Cherry extracts very well but unfortunately also grows very slow. We set out to change this! We experimented with many different breeding combinations to increase vigor, size and strength without sacrificing terpene or cannabinoid content, the result of these trials is what we call Cherry HD. Cherry HD is a early finishing, bigger plant capable of competing with the weeds and creating a quick canopy. She has a sweet smell with a hint of funk.
• Strong field ready structure
• Heavy resin and terpenes
• Ideal for biomass or flower
• 2-3%CBC
• Early finisher, finishes mid to late September depending on geography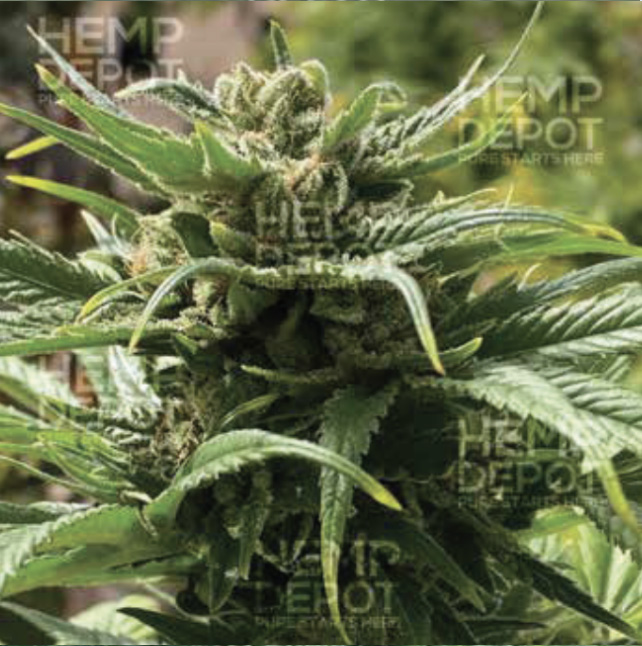 Iowa Regulations for Growing CBD Clones & Seeds
While hemp can be a lucrative crop for commercial farmers, it does require a comprehensive understanding of both local and federal regulations. Not understanding local regulations can jeopardize your entire crop, making it crucial to stay compliant. Here are some great resources for learning more about the state and federal regulations.
Iowa Department of Agriculture and Land Stewardship (IDALS): Iowa's hemp program rules have been approved by the USDA. The website includes a lot of great info and a useful FAQ. Please study this information; some of it might be new or unknown to you. If you have any questions, you can contact the hemp program at hemp@iowaagriculture.gov or call (515) 725-1470.
Here are some of the links you'll find on their website, which can give you the info you need:
Iowa Hemp Act: Updated as of December 2020, the Iowa Hemp Act entails all rules and regulations of the state program. This extensive document is a great resource for understanding licensing, fees, funding, regulations, inspections, tests, and more.
Iowa Agriculture and Land Stewardship: This important document details how hemp is regulated in deeper terms of licensing, testing, and regulating. Hemp farmers should read through this document to understand everything that's expected of them.
2021 Iowa Hemp Grower License Instructions: The 2021 hemp grower application will be available online at the beginning of the year. Paper applications are not being accepted. Farmers will need to watch for the portal to open for both renewals and new applications. Check the Iowa Hemp Program website frequently for application availability. More information can be found in these instructions.
Choosing the Right Hemp Licensing: Here is a convenient flowchart for finding what licensing you need for your intended purposes. Make sure you have all of the proper licensing in order to stay compliant.
2020 Iowa Hemp Year-End Report: It's always a good idea to know the local market overview as well as how farmers faired the previous year. This year-end report includes the program summary, changes for 2021, as well as comprehensive statistics regarding local hemp production.
Iowa CBD Seed Permits: While farmers are not required to purchase their hemp seed from these companies, the IDALS has compiled this list of approved companies to help you narrow down your search. Always work with a company with proven genetics and that values compliance.
Iowa Hemp Sampling, Testing, and Timing: Hemp sampling and testing are required in every state. This document provides the required timeline for these reports. Make sure to follow these instructions in order to ensure you stay compliant. The timelines are outlined for every required report.
National Resources for Hemp Regulations
National Institute of Food and Agriculture (NIFA): This federal agency provides leadership and funding for programs that advance agriculture-related sciences. They are a researched-based organization that invests in and supports initiatives to ensure the long-term viability of agriculture, now including industrial hemp and CBD. NIFA applies an integrated approach to ensure that groundbreaking discoveries in agriculture-related sciences and technologies reach the people who can put them into practice.
USDA: The United States Department of Agriculture is in charge of creating regulations for the industrial hemp industry and the growing of CBD seeds and clones. Their site is comprehensive and a must-read for hemp growers and processors. While there is a state program here, farmers looking for licensing in other states without a hemp program can often obtain licensing directly from the USDA. This federal resource is crucial to keep up with in addition to state regulations.
FDA: The FDA is currently creating a legal framework for hemp-derived CBD products. For farmers cultivating hemp in order to produce CBD, this can be a great resource. Once the FDA has established its regulatory framework for CBD products, this could potentially impact farmers as well as manufacturers. Farmers that are also processors and manufacturers of CBD products can also find its current instructions on how to stay compliant in terms of labeling, marketing, and more.
Vote Hemp: This nonprofit is dedicated to educating legislators and policymakers, advocating for progressive hemp laws, and defending standing policies that inhibit commerce. In addition to advocacy, farmers can utilize this resource for its regulatory information. The website provides comprehensive regulation education by state including ways that you can help with advancing policies. From legal cases to regular political updates, farmers can keep up to date with the ever-changing legal framework.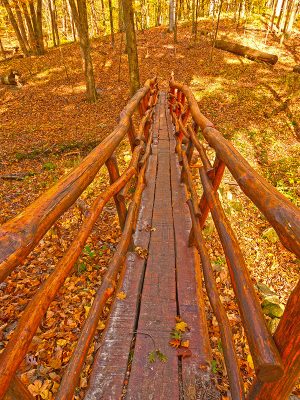 Iowa's Hemp Biomass Transportation Regulations
Iowa highly regulates the transportation of hemp biomass. You can find the detailed document here. Hemp farmers must carry their license at all times when in possession of hemp. Anyone transporting hemp biomass must carry a COA or a Temporary Harvest and Transportation Permit. Hemp seed transportation also requires COAs. A Hemp Bill of Landing is required for hemp shipments and should include the name and address of the hemp owner, point of origin, point of delivery, kind and quantity of shipment, and the shipment date. Smokable finished hemp products are prohibited in Iowa and cannot be transported.
Regions of Iowa Where CBD Is Grown
Iowa is one of the nation's main agricultural states, with soil and a climate that is suitable for industrial hemp. Many in the hemp industry believe that states where corn fairs well are ideal for hemp cultivation. Some of the state's main agricultural products include corn, soybeans, oats and hay, red clover, flaxseed, rye, and wheat.
Top agricultural counties, based on the number of farms, include:
Pottawattamie County

Clayton County

Clinton County

Fayette County

Jasper County

And many more.
Fact is, if there is farming in an area, there can be hemp farming in that area.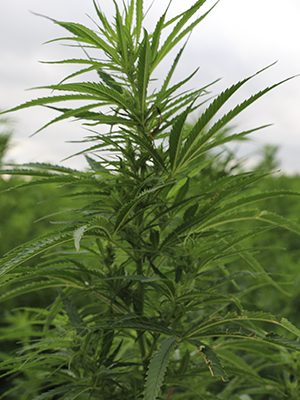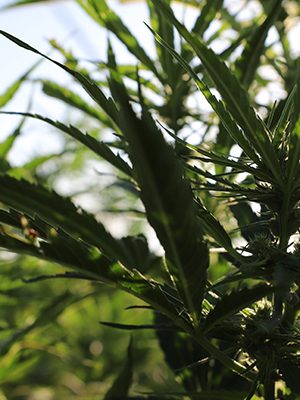 Iowa Agricultural Regions for Cultivating CBD Hemp
Iowa offers distinct agricultural regions that are ideal for growing hemp:
Northwest
West Central
Southwest
North Central
Central
South Central
Northeast
East Central
Southeast
When purchasing CBD seed, it's important to discuss your specific agricultural district due to varying climate and topography. Make sure to find strains well-suited for your region.
Iowa Hemp & CBD Seed News
Farmers should stay in touch with all local hemp industry news. Since regulations are constantly changing and the market is still developing, having a good understanding of what's going on currently is important. An easy, convenient way of obtaining all the information you need is with Google Alerts. You can sign up for your desired search terms and you'll receive an email with any news alerts. Try terms like "hemp farming Iowa" or "CBD market Iowa". Here are some important news articles from over the last year:
November 25, 2020: Some of Iowa's first legal hemp crips set on fire because THC exceeds federal limits
This article includes important information from the 2020 hemp season in Iowa. Unfortunately, some crops went hot meaning that the THC threshold was above the legal limit. In order to avoid your crops going hot, it's important to invest in compliant CBD seed and to test regularly.
March 23, 2020: Iowa hemp production plan approved by USDA
This Hemp Industry Daily article reports, "Iowa is one of 12 states and 14 American Indian tribes that have received USDA approval for their hemp production plans under the interim final rules for domestic hemp production, which were implemented in October."
January 2, 2020: What's required to grow hemp in Iowa? Ag agency releases proposed rules for comment.
In this Des Moines Register article, "Iowa farmers have a chance to comment on the state's proposed rules for growing hemp — from the cost to get licensed to the testing and harvest requirements."
May 13, 2019: Iowa Governor Signs Law Enabling Industrial Hemp Production
The Iowa Hemp Act has been passed with overwhelming support. The bill allows farmers to commercially cultivate hemp on up to 40 acres. While this plan has been passed, the IDALS will still need to develop its state hemp plan for approval.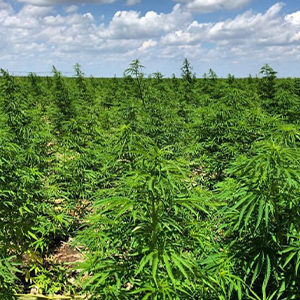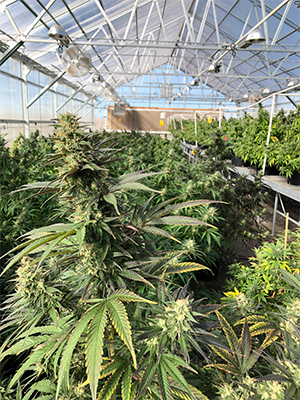 CBD & Hemp Resources for Iowa Farmers
Joining hemp organizations and associations provides first-time farmers a great resource for networking, finding potential processors and buyers, and much more. These organizations can provide the support and local resources you need for getting started. We recommend joining one of these groups, especially if this is your first year of hemp farming.
Iowa-Based Hemp Organizations
Iowa Hemp Association (IHA): The IHA is dedicated to the reintroduction and re-emergence of hemp as an agricultural commodity. They offer a free newsletter that you can sign up for with regular local news. Membership includes access to networking events and education.
Iowa Hemp Industries Association (IHIA): This organization provides comprehensive educational resources for local farmers. Learn more about all the different applications of hemp available, gain access to networking opportunities, and more. Memberships are available at different levels and provide various benefits.
National Hemp Resources
Hemp Biomass Selling Tips for Iowa Farmers
Hire a hemp broker: There are licensed hemp brokers that can help you negotiate the best price for your hemp biomass. You'll want to look for an experienced individual with many connections in the industry and a great track record.
Presell your biomass: This is an ideal option since the window for selling your harvested biomass is short. Having a buyer lined up can help alleviate stress post-harvest while giving you the competitive advantage of growing specific strains that potential buyers are looking for.
Sell directly to buyers: If you have the connections, it may be a good idea to cut out the middle man. Selling directly to buyers can help you maximize your profits but it will require more work.
Profit-sharing agreements: For farmers interested in joining the hemp industry but don't have the upfront finances, profit-sharing agreements may be a good option for you. Profit-sharing works by finding a buyer willing to pay for all upfront costs and recoups these expenses after harvest.
Hemp future contracts: This type of agreement is signed before you start your season with a set price arranged for your biomass. While the price provided in future contracts is usually less than the price available with the open market, this is a good option for better stability and minimizing fluctuation risks.
Networking: Joining a hemp association or attending a hemp trade show can offer networking opportunities for connecting with potential buyers. The more places you can find to network, the more opportunities you'll find.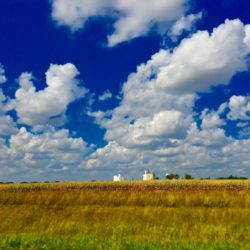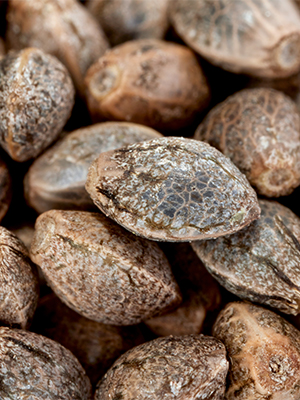 Iowa Hemp Farming & CBD Seed FAQ
Iowa CBD Hemp Farming Resources
Read more about local cultivation needs, market updates, and more for your hemp farm:
October 30, 2020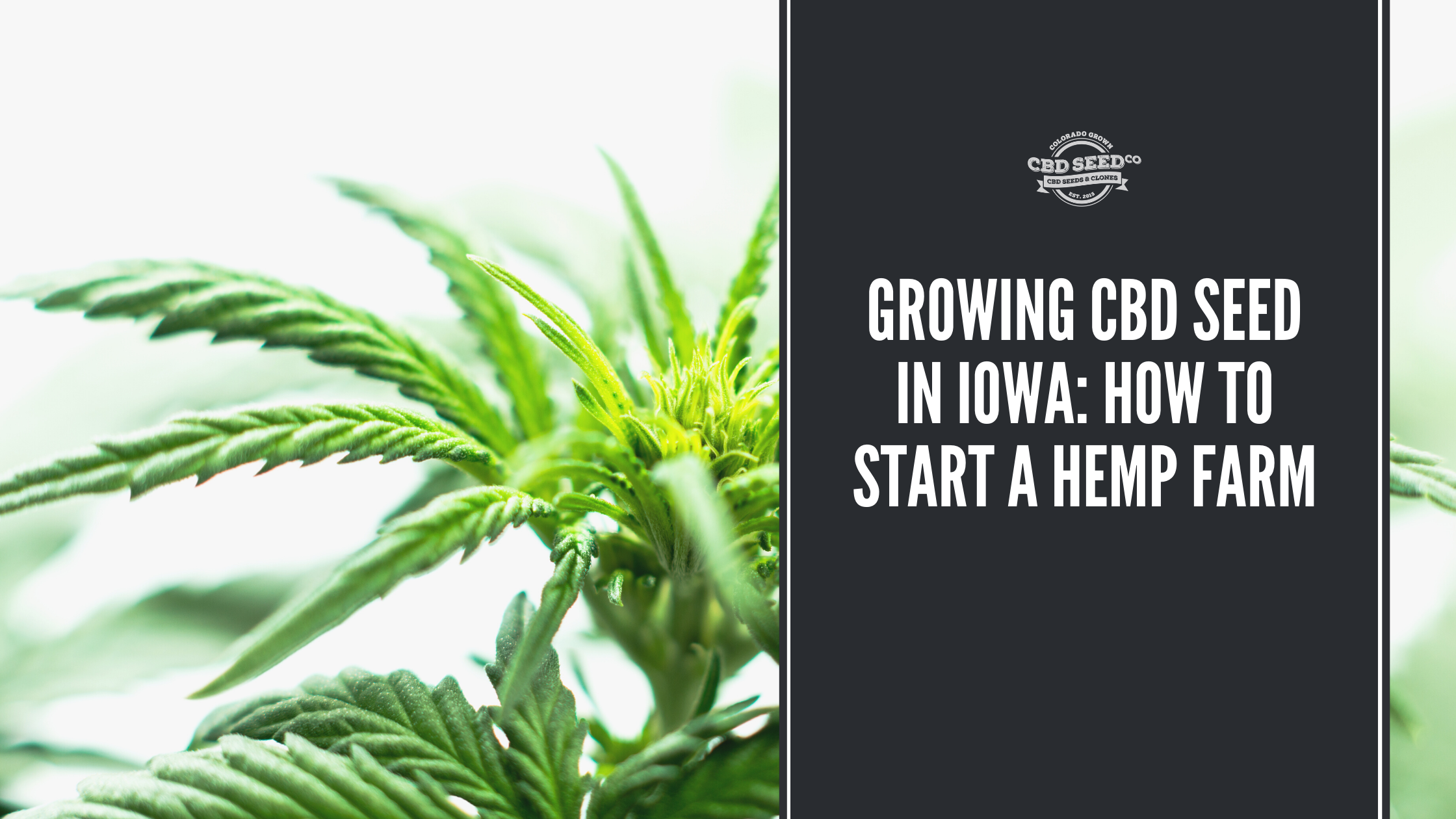 Farmers interested in joining the hemp industry can now legally cultivate this new cash crop under the Iowa hemp regulatory program. Unlike other crops, however, hemp
[…]
Work With Iowa's Trusted CBD Seed Company
CBD Seed Co. is honored to work with local farmers throughout the Iowa area. Our team has been researching and developing our proprietary strains for over five years, offering high CBD-producing genetics that are durable and resilient. We're always available to provide the resources and support that you need. For more information regarding our strains, please contact us!