CBD is suggested to do a lot of different things for the human body.  From reducing seizures to muting pain–the benefits of CBD are only just being tested.  While the science is still being collected of the efficacy of CBD for all sorts of ailments that plague the human condition–it turns out more science is still being discovered on what CBD hemp plants do for soil.  Anecdotally, farmers have known for a long time that hemp is an incredibly resilient crop that can grow in many environments and even in poor conditions. Low water soil, low nutrient soil and seemingly almost every type of soil in between, all seem well-suited enough for this power crop.   Kind of like those fish that live and thrive in water laced with sulfuric acid–hemp plants don't seem to mind soil conditions that most crops wither and die in. Now imagine those same fish didn't just live in toxic water–but purified it as well? This is–sort of–what new studies are finding out about hemp.  Not only does it grow in contaminated soil but it still produces pristine CBD flowers as well. Sounds amazing right? Well, hemp plants are–and more and more studies are proving just why.
Phytoremediation: Hemp's Super Power
The fact that hemp remediates toxic soil has been known for a long time now.  One historical example of hemp plants being used to help clean-up toxic areas is–Chernobyl.  The way this resourceful crop does this is through something called phytoremediation.  This is when a plant, in this case hemp, penetrates deep into the soil and absorbs both harmful chemicals and rich nutrients.  What happens next is pretty amazing. The hemp plant stores the toxins in its stalks and stems but the flowers remain clean.  As if this weren't incredible enough–there is more. Recent studies have shown that when low-THC plants are used to remove things like toxic heavy metals from the soil–the stress on the plant drives up CBD content with no measurable boost in THC content.  This is great news for CBD hemp farmers who need to keep their plants below 0.3% for them to be legal.  You can read the full study here.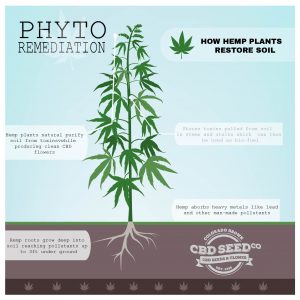 Could There
Bee
Anymore Benefits To Growing Hemp?
The answer is, of course, yes.  But we wanted to focus on another recent study that made us fall in love with hemp all over again.  As it turns out, hemp is also incredibly attractive to bees. Since we are facing a shortage of bees, and they play an integral role in pollinating almost every crop grown, this is a very good thing.  A study from Colorado State University (Department of Soil and Crop Sciences) recently found that hemp provides a massive amount of nutrients to the bee population during cropping season and home to 20 types of bees.  This is great news for the dwindling bee populations and hemp farmers alike (since they get the much-needed benefit of pollination).
CBD Seed Co: Hemp Services From Stem to Sale
If you are getting involved in the hemp business and would like to speak to a fully integrated CBD hemp company–we can help you on your journey.  From farming hemp to white label products and more–we are your go-to contact and supplier in the hemp world. Hemp is truly our passion and we would love to discuss helping your hemp business grow.