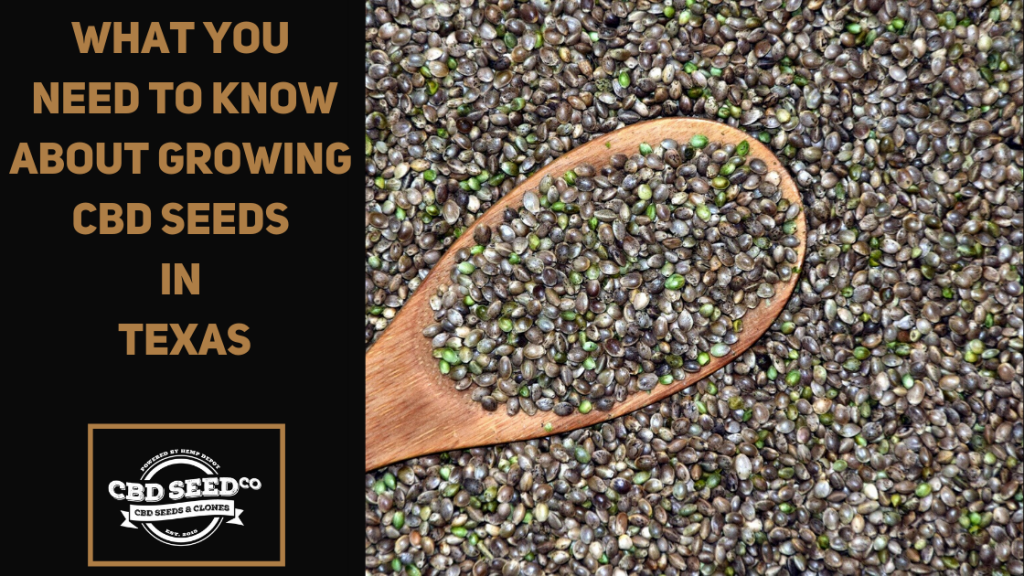 Industrial hemp farming is booming across the nation, with the crops mainly used for manufacturing CBD oil and other products. If you have farmland in Texas and are interested in growing a CBD crop, there are many things you'll need to know.
The production of industrial hemp is regulated by both the USDA and the Texas Department of Agriculture. You'll need to be licensed by the state of Texas… but before applying for a license, why not read up on the regulations so you'll know exactly what you are getting yourself into!
Did you know that your industrial hemp/CBD crop must be tested, and cannot have more than .3% THC? If your crop tests too "hot," it can be declared contraband and might even have to be destroyed. Before allowing this to happen, we recommend learning as much as possible about how to successfully cultivate hemp.
Did you know that to be licensed as a hemp grower in Texas, you must pass a criminal background check. Your license will be annual, and for the first time you'll need the to have completed a Department mandatory orientation course.
You'll want to be able to source the perfect seeds and clones, ones that come from sturdy stock, are female, and are genetically proven to provide the optimal amounts of (high) CBD and (low) THC.
Before planting a single seed, we recommend studying the guidelines on both the Texas Department of Agriculture and the USDA sites, as well as perusing all the info you can find about how to grow a successful crop. Read on for useful links to all the sites you need!
Also in this article:
Texas Regulations for CBD Growing Clones & Seeds – Links to government regulators
Regions of Texas where CBD is Grown
Texas Hemp & CBD Seed News
CBD & Hemp Organizations in Texas
Contact Us To See if We're a Good Fit For Texas CBD Farming
Texas Regulations for CBD Growing Clones & Seeds: Links to government regulators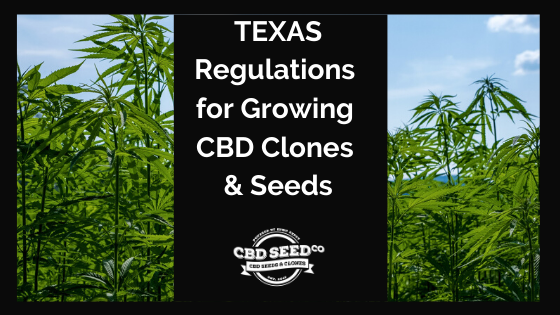 Texas Department of Agriculture – Hemp Program: This website should be your first stop if you need information about getting a hemp growers license, how to grow hemp/CBD, and much more. You can apply for a Texas license here.
There's an excellent FAQ on growing industrial hemp and CBD clones and seeds here.
United States Department of Agriculture – Hemp Program (USDA): If you didn't find what you were looking for on the Texas DOA site, take a look at the info-packed USDA site. Here are some of their useful links:
Regions of Texas where CBD is Grown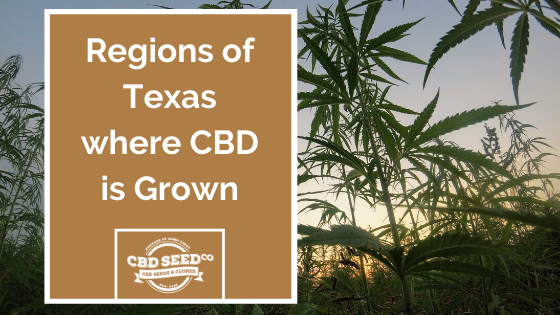 While Texas is known for livestock production, especially beef, they are a heavy agricultural state whose main non-livestock crops are cotton, hay, milk/dairy, and greenhouse and nursery products.
For farmers who are already growing any of these types of crops, hemp could also be grown in that same type of soil and climate.
Hemp can be successful in the Panhandle, West Texas, Deaf Smith County, Harris County, Castro County, Nacogdoches County, and Shelby and Cherokee Counties.
Texas Hemp & CBD Seed News
March 27, 2020: Texas hemp processor to open in Houston. Texas' hemp farmers need processors to sell their crop to. A new processor in Houston is great news for the fledgling Texas hemp/CBD industry.
February 4, 2020: With hemp legal in Texas, hemp retailers, law enforcement still question law's clarity. The similarities in the appearance of hemp and marijuana (they are both strains of the cannabis plant) is creating mass confusion for Texas law enforcement officers.
28, 2020: CBD, hemp, medical marijuana? Here's what you need to know about Texas' changing pot laws. Get some clarity on what is and isn't legal in Texas, and the differences between all these products in this KBTX-TV article.
23, 2020: CBD products are everywhere in Texas since the state legalized hemp. Experts warn: buyer beware. This article in the Texas Tribune reports on the proliferation of CBD products across Texas, and the difficulty in knowing what they really do and which ones are legitimate.
CBD & Hemp Organizations in Texas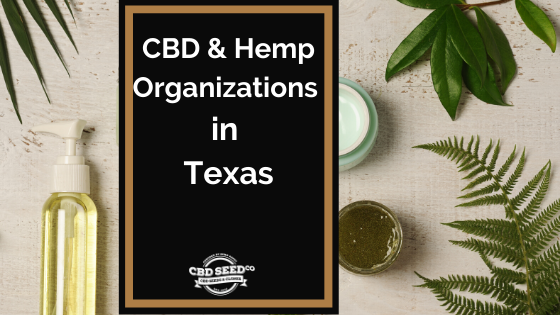 Texas has several organizations to educate and support CBD/Hemp farmers, producers, and others in the industry.
Texas Hemp Industries Association: TXHIA is the Texas chapter of the Hemp Industries Association. HIA® is a non-profit trade association representing more than fifteen-hundred (1,500) supporting, farming and business members. Hemp is one of our planet's most important natural resources, and we advocate for the whole plant. The HIA stands for the fair and equal treatment of industrial hemp and it's opportunities in agriculture and in the marketplace.
Texas Hemp Growers Association: According to their website, "THGA is a 501c6 not for profit association that was created to leverage farmer influence on the emerging industrial hemp industry. We provide farmers with the resources they need to make decisions regarding the cultivation and marketing of hemp and hemp-derived products. THGA provides the resources, education and practical expertise for anyone wanting to grow industrial hemp.
Grow Texas Hemp: From their website: "GTH Is an Independent Texas Hemp Growers Association. We Work Directly With The Texas Department Of Agriculture As Well As Texas AgriLife Extension Agents To Help Future Texas Hemp Farmers Grow The Best Damn Hemp In AMERICA!"
Contact Us To See if We're a Good Fit For Texas CBD Farming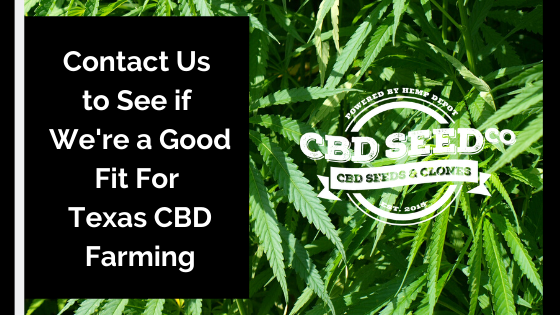 We sell the highest quality CBD seeds and clones to farms across the country. Because our plants and seeds are grown organically, they have no pesticide residues.
Because we have extensive experience with growing CBD on our own farms, we can guarantee that our seeds and clones are genetically proven to have the high CBD and low THC you need, and they are all females as well.
We invite you to contact us with any questions, or to place your order.