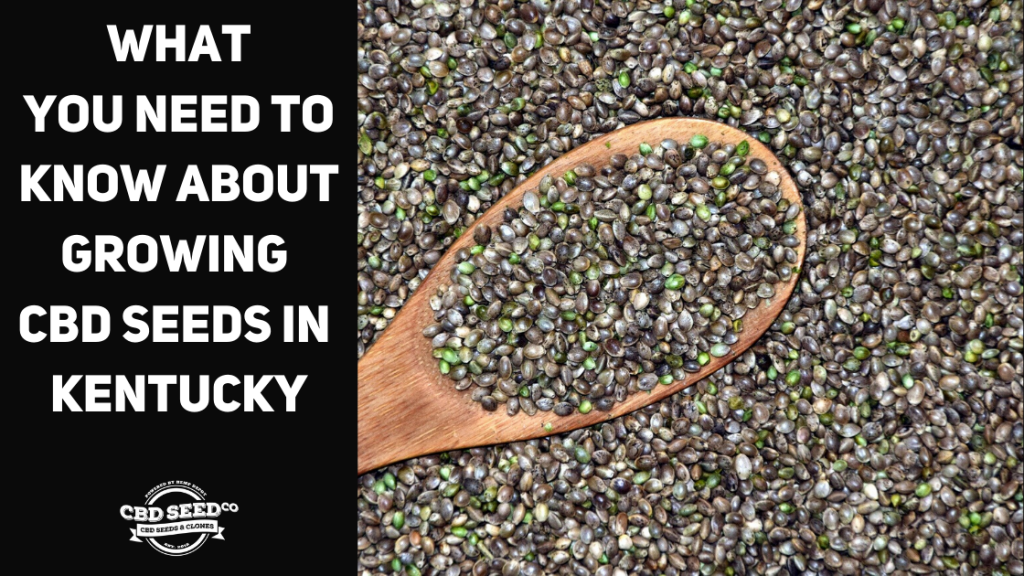 Growing CBD seeds is a lucrative business for farmers in Kentucky. In fact, during the 1800s and early 1900s Kentucky was the largest hemp producer in the country. Hemp was a successful cash crop for many family farms. Now that this crop is finally legal to grow again, are you thinking of getting involved? According to an article in CNBC, "For farmers, industrial hemp can be up to four times more profitable than corn or soybeans and offers growth potential and better returns than tobacco."
There are still some legal hoops to jump through, as well as a lot to learn about how to grow this crop profitably, and how to stay abreast of all the rules and regulations.
Here are some of the main things you need to know about growing CBD seeds:
Growing high CBD seeds in Kentucky requires a license through the state. It is currently a multi-year license but it does have annual renewal requirements, and the license can be applied for through the Kentucky Department of Agriculture's Hemp Program.
You will be required to submit to a thorough background check, for all key participants, not just the business owners.
KDA recommends all farmers do their due diligence about growing hemp before submitting their license application. Although there is a fair amount of information available both on their website and in the packet they provide with licensing, there is still much to be learned to be successful.
Before planting, farmers should decide which type of hemp seeds they need, based on what use they are hoping to sell the crop for. Industrial hemp can be used for a huge array of items from paper to fuel, but one of the fastest growing and most profitable categories is to make CBD oil and other products. The Kentucky soil requires specific types of high CBD seeds that will thrive there. CBD Seed Co is happy to advise any farmer on our available stock of highest quality seeds and clones and make recommendations.
At the moment, hemp plants can only have 0.3% THC, so specific seeds are required to produce plants that fall within the federal guidelines. However, the USDA is currently in the process of finalizing their regulations and this might change, along with several other regulations that make the crop more difficult to be successful with. Farmers and growers are strongly advised to stay on top of this volatile and changing topic to stay on the right side of the law and ensure commercial success.
Here at the CBD Seed Co, we hope to be a valuable resource to Kentucky farmers looking to grow a high CBD crop. We invite you to check out our CBD and Hemp resources page for more information.
Also in this article:
Kentucky Regulations for CBD Growing Clones & Seeds
Regions of Kentucky where CBD is Grown
Kentucky Hemp & CBD Seed News
CBD & Hemp Organizations in Kentucky
Contact Us To See if We're a Good Fit For Kentucky CBD Farming
Kentucky Regulations for CBD Growing Clones & Seeds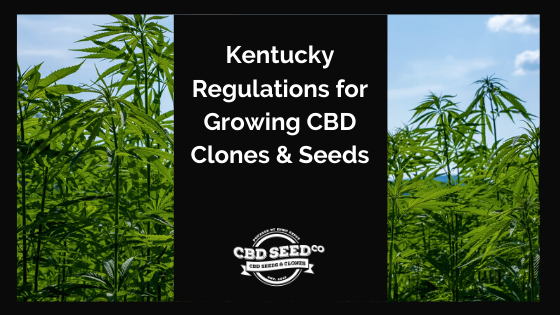 The Kentucky Department of Agriculture should always be your first stop when looking for Kentucky regulations on growing industrial hemp/CBD crops. There are many sites offering information, but if you want to make sure it is the most current, stick with the KDA. Whether you are growing your crop from clones or from seeds, whether in a greenhouse or outdoors in your fields, the information you need to keep it legal will always be found on this site.
According to current Kentucky law, "no person can grow, handle (possess), or process hemp plants, viable seed, leaf or floral materials without a hemp license issued by the Kentucky Department of Agriculture."
Here are some of the most useful links on the KDA's website:
Kentucky requirements for growing CBD clones and seeds: Info about CBD seed varieties that are allowed in Kentucky, help with unsold crops, required plot signage, and much, much more.
Kentucky application to grow hemp/CBD: apply online from the comfort of your farm. Note, there are deadlines each year for your application.
Kentucky's hemp program overview: all the basics you'll need to know about the Kentucky Hemp Program.
The KDA even offers marketing support to ensure that you can sell your crop once it is harvested.
Since every state, regardless of its own policies, must follow federal law when it comes to the growing of industrial hemp/cbd growing, the next site on your list should be the United States Department of Agriculture's Hemp Program.
As far as state and federal regulatory agencies for growing CBD seeds and clones, basically these two are the only ones you'll need. Please make use of the wonderful, thorough, and current information contained on their pages. By doing so, you will always stay safely within the law and have the best chance of bringing a successful crop to market.
Regions of Kentucky where CBD is Grown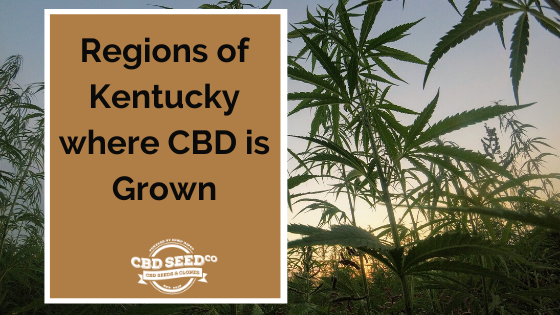 Once upon a time, the great state of Kentucky was the largest hemp grower in the nation. Over the years, many farmers switched to tobacco, even before hemp became illegal. Today, though, many farmers across the state are turning back to hemp and CBD growing.
The first hemp fields planted after the passage of the 2014 Agricultural Act (which legalized the growing of hemp again) took place in a 500 acre plot in 2017. This plot was located the fertile fields of Harrison County.
Is Kentucky suitable for successful growing of industrial hemp for CBD production?
Both the climate and soil in Kentucky happen to be perfect for growing CBD seeds and clones. Since the state is a large agricultural/food crop producer, industrial hemp can be successfully grown in any area of Kentucky that produces other crops.
Hemp farming is legal in every county in Kentucky, and strongly supported by the state's Department of Agriculture and the Governor. In 2019, more than 50,000 acres (20,234 hectares) have been approved for Kentucky hemp production, and 26,000 acres of CBD seeds and clones were actually planted.
Top agricultural counties in KY, according to the 2017 census:
Graves County – $346.2 million.
Fayette County – $215.5 million.
Bourbon County – $209.6 million.
Christian County – $205.3 million.
McLean County – $190.8 million.
The financial success of these counties with agriculture means that that hemp can also be a successful crop in any of them—and is already likely being grown there. In fact, hemp is easier to grow than tobacco or corn, two of the leading cash crops.
The following counties even hold hemp and CBD growing meetings for farmers, which provide useful information on various aspects of hemp growing and production:
Bath County
Fayette County
Warren County
Hardin County
Marshall County
Breathitt County
Pendleton County
Contact each county directly for more information.
If you are considering growing CBD seeds or clones, but not sure about your area, please reach out to the Kentucky Department of Agriculture. They stand ready to assist you with a vast knowledge base. However, if there is farming of any kind in your area, you can rest assured that hemp can definitely be cultivated there.
Kentucky Hemp & CBD Seed News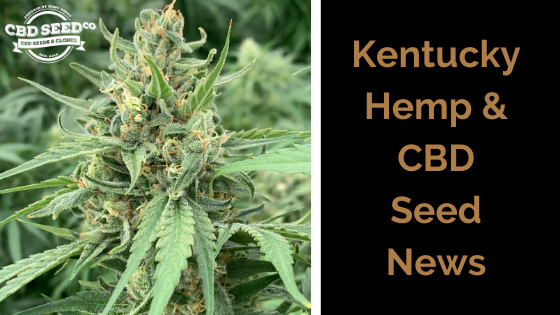 Check out all the latest and most important news from Kentucky's CBD and industrial hemp industry…
March 10, 2020: Kentucky Hemp Industries Association supports HB 506. This bill exempts Combustible Floral Material (CFM) from the definition of marijuana and would exempt any person in possession, custody, or control of CFM from the penalties applicable to those persons who violate KRS Chapter 218A. If you are trying to keep up with the changing laws regarding hemp growing, production, and sale of CBD crops in Kentucky, this is a must read.
March 12, 2020: Kentucky Legislators Move Forward to Establish Cannabis Research Center. This article details Kentucky House Bill 463, which would establish the Kentucky Center for Cannabis Research at the University of Kentucky. As you probably know, both hemp and marijuana are cannabis plants. If passed, the University could receive up to $4 million from the General Assembly over the next two fiscal years.
Feb 15, 2020: Hemp industry continues to grow in KY; Could medical marijuana be next? The title of this one is pretty self-explanatory. A fascinating read from WKYT.com.
Feb 10, 2020: Kentucky's hemp supporters remain optimistic despite 'growing pains'. As reported on WDRB.com, "The bankruptcy of a major hemp processor is raising new questions about the future of the crop in Kentucky." What will this mean for the future of hemp/CBD seed growing and hemp production in the state?
Jan 21, 2020: Kentucky will operate 2020 hemp program under existing rules. Kentucky's Department of Agriculture reports that they will extend the state's hemp pilot program for the 2020 growing season with no changes. This also means they have withdrawn their application for federal approval for its regulations to grow the plant.
October 25, 2019: Cash-flow, legal issues giving Kentucky hemp 'growing pains'. As reported in the Lexington Herald Leader, "several major hemp companies have hit financial and legal snags, even as cannabidiol or CBD turns up everywhere from food to pharmacies." This article details a lawsuit between a group of Kentucky hemp/CBD farmers and a processing company, which has since had to file bankruptcy.
The CBD and industrial hemp industries are in continual flux. As a hemp farmer, it's vital for you to stay abreast of the news and the changing regulations. For more news about the Kentucky industrial hemp and CBD seed industry, check out the Kentucky page of Hemp Industry Daily. They can keep you up to date on all Kentucky hemp/CBD business and legal news. They feature news by state, an industry directory, business resources, and much more. Subscribe to their email newsletter to receive the info you are looking for directly to your inbox.
CBD & Hemp Organizations in Kentucky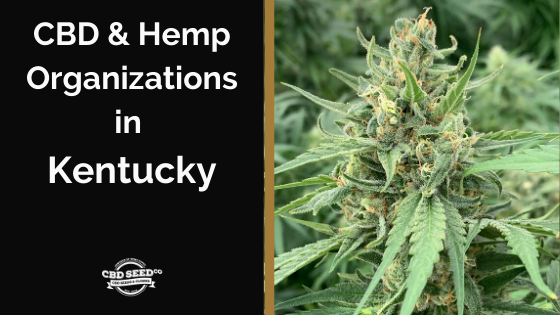 (KYHIA): According to this organization's website, their mission is "is to represent the interests of the emerging Kentucky hemp industry. As a 501(c)(6) membership-based non-profit trade group, we seek to encourage the research and development of new products made from industrial hemp while offering our members a network of like-minded, trusted individuals within the current hemp industry." KYHIA has an annual conference in Elizabethtown, Kentucky. This year the conference will be attended by researchers from various Kentucky universities. They will make presentations on hemp economics, greenhouse hemp, hemp insects, and much more. If you are a CBD seed grower in Kentucky, this conference is a must-do. Check out KYHIA's Facebook page as well.
U.S. Hemp Roundtable: This nationwide organization is a coalition of dozens of leading companies and organizations committed to safe hemp and CBD products. They provide much needed hemp and CBD education to elected officials and policy makers nationwide, as well as keep you informed on the latest industry updates.
Check out their Kentucky state page for more information about action needed in Kentucky, including a form to submit to your state representatives.
The Hemp Industries Association: They call themselves "a trade association with a conscience." Their mission statement reads, "The mission of the Hemp Industries Association (HIA), a 501(c)(6) membership-based non-profit trade association, is to advance the hemp economy and educate the market for the benefit of our members, the public, and the planet."
Friends of Hemp: This organization is a 501(c)(3) created to grow the industry through education and opportunity. Their focus at the moment is not on CBD seeds but on attempting to make hemp seeds legal for other purposes, such as an incredibly nutritious and economical food for livestock.
Center for Agricultural Hemp at Murray State University: Not so much an organization as a research center. The center is currently administered through the university's Hutson School of Agriculture. Its mission is to provide opportunities for research, education, policy, and innovation within the hemp industry to its students and agribusinesses.
Contact Us To See if We're a Good Fit For Kentucky CBD Farming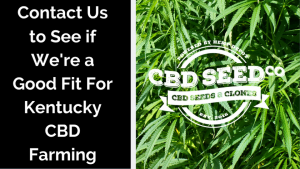 Is CBD Seed Co a good fit for Kentucky farmers looking to grow high quality CBD seeds and clones? First of all, the farmer will have to do his own due diligence regarding the seeds and clones that are allowed by the Kentucky Department of agriculture. As we are a Colorado based company, make sure you check on the legality of importing CBD seeds or clones across state lines, as regulations continue to change as the industry evolves.
Why use a Colorado based company to grow hemp in Kentucky? Well, if you are looking to sell your crop for CBD oil or other CBD products, we can assure you that our CBD seeds and clones have proven genetics. This means they have the federally mandated ratio of high CBD to low THC (less than .03% THC).
All of our seeds and clones come from mother plants that were raised to the highest organic specifications. We guarantee, via independent testing, that they contain no pesticide residues.
And what about your farm's expected profits using our seeds and clones? We confidently project 80%of gross revenue as net profit when cultivating our feminized high CBD hemp seed.
Take a look at our genetically proven high CBD seed and clone offerings and prices now! Please note that whether your order is small or enormous, we can handle it. However, for CBD clone orders over 1000, we'll need approximately two weeks to fill the order.
At CBD Seed Co, we have been in the industrial hemp/CBD seed business since 2009, with a strong focus on research and development. We are also a vertical company, meaning we have our own hemp/CBD farms, production, and even a successful retail arm. We feature the outstanding results of our CBD research with a full line of organic CBD oils and other products. This extensive level of experience is unmatched by anyone else in the industry. We proudly offer the results of this experience to you, ensuring that you and any other farmers around the globe can optimize your profits and supply the ever increasing demand for high-quality CBD.
Why not let our success inform yours? We're here to help!